Leave your thoughts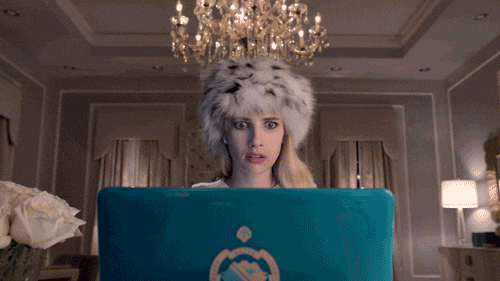 Writing a CV is something we all have to do at some point in our lives. Unfortunately it's is just a necessary evil that has to be completed in order for to land us our dream job! Despite its importance, most of us try to avoid it as long as possible, as it can be quite a dull task which is often tricky to perfect!
Annoyingly, there isn't a specific template you should use when writing a CV. Imagine how boring it would be as an employer if everyone's CVs were the same! There are however, several things you should try to avoid. Even if you are the best candidate in the world – some of the mistakes outlined below could be fatal to your job search. In most cases, you may not even secure an interview if one appears on your CV, so make sure you don't do any of the following.
1 – DON'T USE an unprofessional email address
Again, we have all done it. Our teenage selves wanted to stand out online so we created emails like; badboii1035@hotmail.com or sexyblondebbe@gmail.co.uk. Sadly, emails such as these will only make you stand out for all the wrong reasons in the professional world. Your CV is generally the first thing employers will see, so branding yourself at the top of your CV as 'badboii' looks seriously unprofessional and they will doubt your credibility. It's best to leave the embarrassing email address in the 90's and set up a new one containing your full name. If you are one of the 'John Smiths'' or 'Emily Jones'' of this world, adding a number may be necessary as is likely your name will be taken! Avoid nicknames and silly abbreviations at all costs!
2 – DON'T USE meaningless clichés
This is a pet peeve of most employers. 'I am a motivated go-getter, with the gift-of-the-gab', 'I can sell ice to an Eskimo' and 'I am a team player with my eye on the prize'. – This is all great – but you need to PROOVE this. Providing real life examples of achievements as well as explaining the impact they had on your career will be far more telling than just saying 'I am a team player'. Stand out from the crowd!
3 – DON'T USE photographs
As lovely as it may look, unless you are looking for a career in modelling or acting, adding a photo to your CV will not be of any value to your employer. Your skills and experiences are your selling tool, not what you look like. Using the limited space you have on a CV is crucial, so it needs to be filled with information that will make you stand out. If an employer is really desperate to see what you look like, they can look at your LinkedIn profile.
4 – DON'T WRITE too many pages – seriously!
Some employers / recruitment agencies will receive hundreds of applications for just one vacancy. If they had to read 5 pages for each applicant – they wouldn't get much done! Say each five page CV would take five minutes to read, one hundred CV's would take approximately eight and a half hours for one person to read, with no break – ridiculous! Remember, the person reading your CV is likely to be incredibly busy and won't have time to sift through five pages of rambling text. You need to stick to a maximum of two pages and make those pages as clear, concise and informative as you possibly can.
A few tips to help you stick to this guideline are as follows:
Write less for your oldest positions: Roles dating back several years are less important to prospective employers than your more recent roles. Summarise and shorten descriptions that will be less significant to the vacancy you are interested in. Just include the most important facts.
Remove irrelevant information: You need to be brutal here. Rid of details that seem unnecessary for your application and get rid of 'fluff' (information that isn't concise and holds little value). For example; if needs be, cut out most of the information about your hobbies and interests, as most of it won't be useful in nailing you an interview.
5 – DON'T LEAVE unexplained gaps of employment
It's only natural that you will take the occasional career break, but if there are large unexplained gaps in your CV, you will worry your future employers. It will simply look like you have done nothing with your time during that period, which won't make a good impression. If you have completed personal projects or have been travelling, then don't be afraid to say so! This will usually go down very positively with employers and is certainly better than unexplained time-off. Something else that you shouldn't be ashamed of is if you have had time-out due to a serious illness. This is out of your control and any decent employer will not discriminate against you because of it.
6 – DON'T MAKE spelling and grammar mistakes
Most modern day PC's will have spell-checks built in, so any mistakes are practically inexcusable. Whilst spell-checks should pick up on most errors, they occasionally miss a few and cannot detect places where words have been missed entirely. You should ALWAYS proof read your CV and get a friend to check through it to avoid as many mistakes as you can. Errors in your CV are a massive red-flag for most employers – so avoid them at all costs.
7 – DON'T USE elaborate fonts
Make sure you use an easy-to-read font to avoid putting your reader off. A fancy font will only look tacky and unprofessional. – Not easy to read, eh?
Make sure you use an easy-to-read font to avoid putting your reader off. A fancy font will only look tacky and unprofessional.
8 – DON'T WRITE large chunks of text
Breaking down the information on your CV is important for the readers' sake. The longer the chunks of text, the harder it is to read. The harder it is to read, the quicker employers will pick up the next CV and toss yours aside. It's that simple. Paragraphs and bullet-points should be used so the employer can skim your CV easily for the relevant information.
For more tips on how to write a good CV, please visit our website – http://www.pierrecruitment.co.uk/looking-for-a-job/content/#tab-content6 and visit our downloads section!
Tags:
blog
,
blogger
,
brighton
,
CV
,
CV mistakes
,
hove
,
how to write a CV
,
job
,
job hunt
,
job search
,
job seeker
,
Pier
,
recruiter
,
recruitment
,
resume
,
tips
Categorised in: CV Writing, Job Hunting
This post was written by Emma Jones